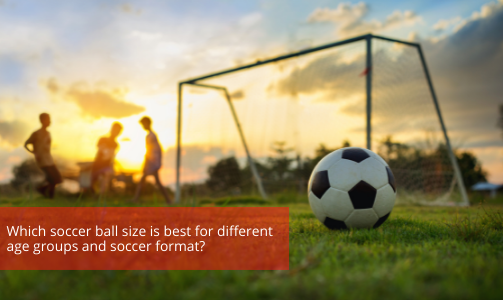 It is important to know that
soccer balls
(or footballs) come in different sizes, color, and materials. If you're new to soccer, or you have kids that play soccer, then you might be wondering which soccer ball size is best for what age and game format.
When buying soccer balls, it is important to get the right size as using the wrong one can be detrimental to one's growth and development. It can also be frustrating and dangerous, especially if you or your child is still learning how to play. You should also consider where the ball is going to be used - are you playing pickup, practice, or is it an official match?
Ball Size
In Australia, the following age groups play with these balls:
| | | |
| --- | --- | --- |
| SIZE | CIRCUMFERENCE (cm) - FIFA | AGE |
| Size 5 (Adult) | 68 - 70 | Ages 14+ |
| Size 4 (Youth) | 63.5 - 66 | Under 10's - 13's |
| Size 3 (Junior) | 58.5 - 61 | Under 6's - 9's |
We recommend the size 2 ball for ages 4 and under.
One of the reasons for having soccer ball sizing standards is the safety of younger players. If a 4-year-old is hit by a size 5 ball, it will hurt a lot more than if it was a size 3 ball.
The ball size is also important for ball control. Little kids with little feet will have trouble manipulating a ball that is too big for them. Also, a size 5 soccer ball is heavier than a size 4 or size 3, which could cause injuries to a child who tries to kick a ball that is too large for their age.
Ball Quality
There are plenty of soccer balls on the market. To know what ball quality you should buy, you need to first determine where the ball is going to be used, then determine the quality of the construction and materials used.
General Home/Backyard Use
Most kids who kick the ball around the backyard generally use the balls at a high volume and with high wear and tear. Because of this, it's suggested to purchase a reasonably priced high-quality polyurethane training soccer ball.
Junior Training
Avoid using cheaper low-quality PVC balls, this will cause more harm than good. Only train with high-quality Polyurethane soccer balls that meet the size and weight requirements in FIFA. The ball should be consistent, durable and mimic gameplay soccer balls.
Junior Match Play
Having the correct soccer ball for match play is crucial for optimum performance. When selecting a junior match ball, look for a high-quality Polyurethane ball that is either hand stitched or thermo bonded. This will give the ball a "true" flight and allow players to play at their highest potential. The balls should also meet FIFAs requirements in terms of their size and weight.
Senior Training
Avoid using both low-quality soccer balls, or balls designed for junior development. Train with a high-quality Polyurethane soccer ball that is either hand stitched or thermo bonded.
Senior Match Play
Serious soccer players need serious soccer balls. Always play with a high-quality thermo bonded or hand Stitched Polyurethane soccer ball. Get a ball that's true when kicked at high velocity, isn't too bouncy, and isn't too cushioned.
Conclusion
Finding the right size soccer ball can be tough, especially for new players and parents. But getting it right will help you or your youth player have more fun learning the beautiful game!